Fri, Apr 25, 2014 at 05:30 PM
Comments Off
Permalink
Here is my fave Cheesy Potato Casserole, which has become a family favorite!
can (10-3/4 oz.) condensed cream of chicken soup
cups BREAKSTONE'S or KNUDSEN Sour Cream
pkg. (32 oz.) frozen Ore-Ida hash browns, thawed
pkg. (8 oz.) KRAFT Shredded Sharp Cheddar Cheese
2 cups of Tyson frozen chicken (thaw out in microwave)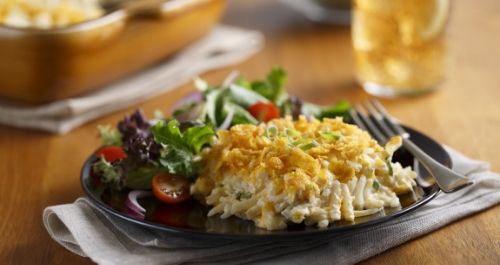 HEAT oven to 350°F.
MIX soup and sour cream in large bowl. Add potatoes and cheese; stir until well blended. Add in thawed out chicken.
SPOON mixture into 13x9-inch baking dish. Top with cheddar cheese.
BAKE 50 min. or until heated through.
====
Look at all this cheesy goodness!