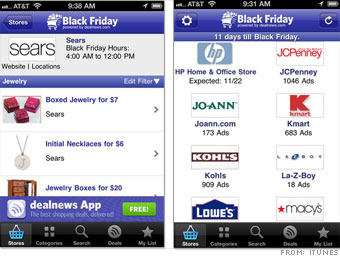 Photo credit: CNN.com
Want to access Black Friday deals on the go? Here are the 7 best apps!
Everyone knows that Black Friday is a great day to get amazing deals. With the dealnews Black Friday App, you can view retailer "leaked" and confirmed ads, and browse all deals in one place.
TGI Black Friday is currently the highest rated Black Friday app for the Apple iPhone in 2011. The free app allows you to search thousands of Black Friday deals for every major retail store. You can create a personal shopping list and use your iPhone to shop smarter and faster on Black Friday.
Snap a photo of a receipt with your smartphone camera and the app will digitize and store the purchase record.
Perfect for Cyber Monday, turn Slice loose on your e-mail inbox and it will ferret out all of your purchases and start tracking them.
Zaarly offered up a how-to guide for using its service to "hack" Black Friday. TaskRabbit, which allows you to outsource your errands, is also fielding Black Friday requests -- everything from companies looking for people to hand out fliers to the traditional "wait in line" appeal.
Snap a picture of or scan the barcode on any any book, DVD, CD, or video game that SnapTell tracks and the app will let you know how much the item costs at nearby stores and at online retailers.
A number of retailers are offering up discounts to users who check in on Foursquare on Black Friday.
Source: CNN.com