Tue, Mar 25, 2014 at 11:21 AM
Comments Off
Permalink
This is a Sponsored post written by me on behalf of Walmart. All opinions are 100% mine.
I have always loved Easter and springtime, but I think I liked it more when my son Cam was born. I like to consider myself a creative type and this holiday brought out my creative ideas! When I make Easter baskets, I like to include little toys, trinkets and candy in his Easter basket. I also started making baskets for my husband Walt and some family members. From choosing the filler to the candy and gifts, it is a lot of fun. Target's $1 section has a lot of great Easter basket filler items. I've also gotten ideas from magazines like Martha Stewart and Family Fun.
When Cam was old enough to find his Easter basket, we started a tradition of hiding it somewhere in the house. We would have hid it outside, but here in Northeast Ohio, there can still be snow on the ground at Easter time. Cam at age 11, along with our cats Breezie and Pookie help look too! And sometimes I buy a little Easter treat for them too.
Besides cards and baskets, for our yearly tradition, we go to my mother in law Janet's house for dinner. We have a wonderful meal of ham, corn, cheesy potatoes and more! I usually make my Easter bunny cake, this is another tradition I've been doing since I was a teenager. There are a lot of great cooks in our family, so it's always a wonderful meal!
Here is my fave Cheesy Potato Casserole, which has become a family favorite!
can (10-3/4 oz.) condensed cream of chicken soup
cups BREAKSTONE'S or KNUDSEN Sour Cream
pkg. (32 oz.) frozen Ore-Ida hash browns, thawed
pkg. (8 oz.) KRAFT Shredded Sharp Cheddar Cheese
2 cups of Tyson frozen chicken (thaw out in microwave)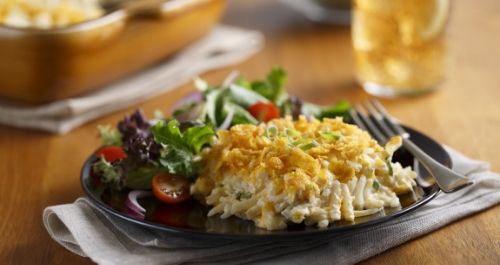 HEAT oven to 350°F.
MIX soup and sour cream in large bowl. Add potatoes and cheese; stir until well blended. Add in thawed out chicken.
SPOON mixture into 13x9-inch baking dish. Top with cheddar cheese.
BAKE 50 min. or until heated through.
====
Look at all this cheesy goodness!
This is sure to become a family favorite, at Easter and during the entire year. If you decide to try it, I'd love to hear how your family liked it!