Stocking up on food but not sure how long food is good for, or where to store it? Here is what you need to know!
Canned Goods:
Commercially canned foods are good for two to five years from the date they were packed. High acid food like tomato sauce will not keep as long as a can of beans, for example. Canned protein like tuna, chicken, corned beef and even bacon have a shelf life of five years, or longer.
Canned foods lose vitamins as time goes by so you will want to rotate your food supply so you are using and replacing items before their "use by" dates.
And canning is another great way to stock up on your own homegrown produce or great deals from your local store. Check out our
canning guide
.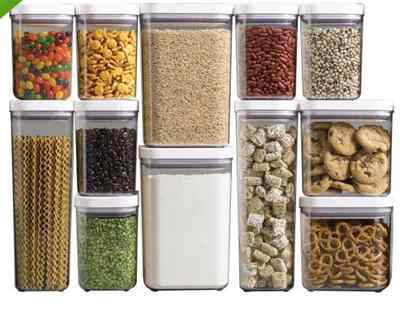 Containers like
Rubbermaid
or
OXO
are also a good bet for tightly sealing in food.
Rice. White rice should be used within two years after opening, brown within six months as it has more protein. You can extend the shelf life of white rice to 10 years or longer when properly sealed and stored.
Flour. You can count on all-purpose flour lasting well for three to six months in its sealed bag, up to one year in the refrigerator and longer if stored in a freezer.
Sugar. Sugar is one of the few products that lasts indefinitely. The only problem it presents for cooks is that it can harden. For this reason, plan on sugar having a useful shelf life of about two years.
Soft grains — Barley, oats and rye are soft grains that can last as long as eight years.
Hard grains — Corn, wheat and flax are in this category. They can last between 10 and 12 years.
Beans — Hermetically sealed, they can last between eight and 10 years before they need to be tossed. As they age, they lose oils and may need to be ground.
Pasta — It can last as long as 10 years. As with most other foods, cooler temperatures will help it last even longer.
I also recommend
investing in a vacuum sealer
. Amazon has them as low as $78 and watch for sales to bring the price down even more. One of the best ways to store anything, especially dry items in bulk, is in glass canning jars that have been vacuum sealed.
So where do you store all this stuff?
It may require a little creativity on your part to find space for your new food reserves. Just keep in mind that most of us have space currently occupied by stuff we never use and really don't need.
Under the bed. Shallow plastic containers are perfect for holding canned goods and sealed dry goods.
Basement. I have shelves set up, just for my stored food. I mark everything with a marker, when I bought it, etc. so I know when I need to rotate the stockpile.
Closets. Another place to organize your food. Just be careful cans don't fall on your head!
Under stairs. Simple shelves can organize this space and make it ideal for food storage.
Be sure to stock up on OXO and Rubbermaid containers.